Friday, September 17, 2004
Sara's Pinafore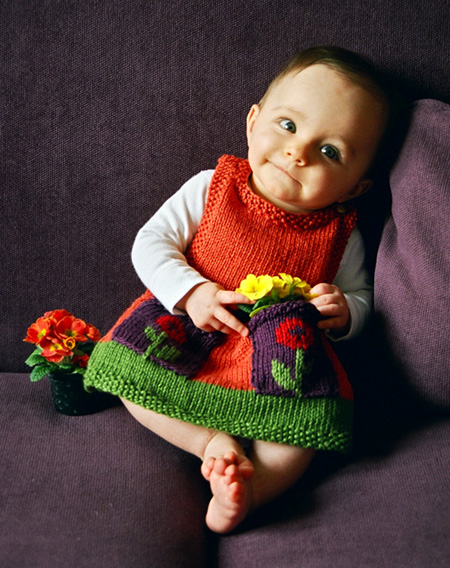 You know, the more I think about Sara's pinafore, the more it begins to deviate from the pattern that I fell in love with. As I mentioned yesterday, I fell in love with this pattern before my daughter was born. I loved that it wasn't the typical baby colors. But the more that I think about making this for Sara, the more I am tempted to make it in purples and blues. She's a toehead with a fair complexion to match. Her wardrobe has a lot of light colors. As tempted as I might be to make this in an eggplant, the more I think about customizing it for her, the more I want to make it wearable year-round. Living in Arizona, we don't have much of a window to wear heavy sweaters, so I'm thinking of doing this as a sort of summer knit that she could still wear in winter with a turtleneck.
I've been thinking about doing the dress in either a lilac, lavender or light blue, and using a chenille for for the fish and a high sheen fiber for the water. Still, I wasn't sure how I should vary the stitch to make for an interesting water feel. Then I remembered the seafoam waves stitch I saw on
Knitty Gritty
. It solves two problems: a) it's water like, and b) it gives another stitch variation that I can use to make the dress a little more lightweight. Should be good for winter or summer and get a bit more wear than it otherwise might have!
Knitting Hooky
I had honestly and quite innocently stepped out just to pick up a hamburger and mail a letter over lunch yesterday. But on the way to see a man about a Jumbo Jack, I had this completely impulsive and irrational thought: "Hey, why don't I just run over to
The Fiber Factory
today
.
Right now
. I could be back before being seriously late from lunch." Unfortunately, there was no one around to provide the rebuttal to this proposal, so I went.
Oh, yummy, yummy yarns! The education in browsing the yarns was itself well worth the 40 mile roundtrip. I saw almost all of the yarns that were originally used for the projects that I want to do (the berroco suede, the noro multicolored wool...), and found some beautiful ones that gave me new ideas for Sara's pinafore, which I think may now include her favorite toy:

Mr. Fishy Fish Face (aka: Googly)
To be reimaged as intarsia knit pockets, I think, with a multicolored (purples and blues) yarn to be used as the background color.
I also came across this wonderful white fluffy yarn called Snowflake, which is a chunky sort of yarn. It's incredibly light. It think it could make a really good trim for Anya's Yule dress and coat, although I might combine it with something a little heavier.
Today, I'm tempted to go to another store to windowshop. It's so hard to stay in the office and work when so many yarns are just calling out there!
Thursday, September 16, 2004
A Knitter Is Born
I've become complete obsessed with knitting. Why now? I taught myself how to knit years ago. I've even retaught myself several times since. Why would I suddenly become obsessed with it now? Have I simply
matured
into it? Have the stars simply aligned into perfect knitting harmony?
I blame it on
Knitty Gritty
and
Knit One, Purl Two
on the
DIY network
. It was the
Chunky Baby Sweater
that really got to me at first. My friend was pregnant with her first baby, and I was trying for my own first. This sweater would be perfect for our little ones! But I could scarcely knit a square, let alone think about fronts, backs, sleeves and collars. I had one set of size 10 1/2 knitting needles and 4 skeins of Red Heart yarn that I hadn't chosen myself. Then baby came and I had no time, I was busy with her, then going back to work and school and many other projects as well.
Then came
Knitty Gritty
. That was a whole new take on knitting. And this was much easier to follow than Edith Eig's heavy accent and inconsistant instruction. This has a Knitty-Cam! I recorded every episode I could get to on my Tivo knockoff and studied them. I'd watch them over and over with ugly acrylic yarn on oversized needles, practicing, rewinding, unraveling, pausing, knitting, replaying again and again. And she was doing wild projects like guitar straps! Not that I needed or wanted a knitted guitar straps, but it started to open my eyes to the possibilities beyond simply scarf and hat.
Then it happened. I deviated from the square.
Using information about how to make gussets (sp?) I learned from
Edith's Small Tote Bag
how to do these, and then away I went! And from that was born The Ugly Blue Bag, and its successor, The Not-So-Ugly Burgundy Purse, which came about when I impulsively spent $2 on #5 needles at Walmart. But I still had no weaving needle to weave in the ends of the yarn, so the bags remain
ed
.
Then one of those oddly serendipitous events occurred. A poster on a FLYlady list happened to mention a pinafore pattern on
Knitty.com
called "
Anouk
". "A pinafore?" I wondered to myself, "How ugly
is
that?" and I decided I had to see for myself. In a single glance, I was completely sold. I had to find out how to make that dress for my newly arrived daughter.
And that's when it started. I was getting sucked into knitting culture. There were message boards, websites, BLOGS! THERE ARE KNITTING BLOGS!! I found political action knitters:
Knitters for Kerry
and
Knitters Against Bush
.
I found yarn shops online, and then began to explore the knit shops in my area...KNIT SHOPS! There were places I could go to learn, to share ideas, or just sit and knit and be among my own kind!
Oh Happy Day!
Recently, my mother gave my all of her knitting and crochet needles. I had seen that there were some weaving or tapestry needles in there too, as well as two needles that my mother identified as having been made by my grandmother from palm needles - all of these needles she pulled from the giveaway pack. Still, my grandmother, the coolest of all grandmothers, had just reached an alltime high in my book, despite her having been gone for more than 20 years.
But I digress.
The crux of the story is that I'm broke and have discovered that knitting is not only materials intensive, but those materials are often quite expensive. So I've amassed in my head a list of projects that I intend to plow through before the holidays, in order, as I come up with the cash.
Harry Potter - Griffindore scarf
for my friend Brion, whose birthday in mid-August went sans gift because I was flat broke then as now.
Anouk
pinafore, likely in a purple and blue colorscheme, possibly with fish on the pockets, for my youngest goddessdaughter, Sara, whose 1st birthday suffered the same fate as Brion's.
Anouk pinafore in black
with a white trim (probably using chunky Snowflake, possibly with an white eyelash mixed in) for my own daughter for the holidays
with my own design for an overcoat made from black chenille and trimmed (bottom and cuffs) in the same white snowflake (possibly with fur mixed in).
Two felted handbags
, one each for my two oldest goddess daughters. One will likely have a Union Jack on one side, and a plaid pattern on the other, and the other will have either superhero logos (Superman and Batman) or an anime theme.
And, if time and energy permit, I would really like to do the
Chunky Baby Sweater
for both my daughter, Anya, and for Sara.
I know. I'm ambitious.
But I now love knitting. Despite my limited supplies, I work on swatches of stitches and patterns to see what I can learn and do, so that when I finally get to the real supplies, I can simply run with them.
Maybe I have matured into my knitting. Maybe I didn't have a good enough reason to knit before. No. It's not just one thing. It's all of them at once. I am more secure about who I am, less boxed in about what knitting has to be, and I have four wonderful girls in my life for who I can make wonderful projects, not to mention friends, family AND ME! That's plenty to get creative about. So maybe it's not so much obsession as it is a whole new realm of possibilities!