Friday, September 17, 2004
Sara's Pinafore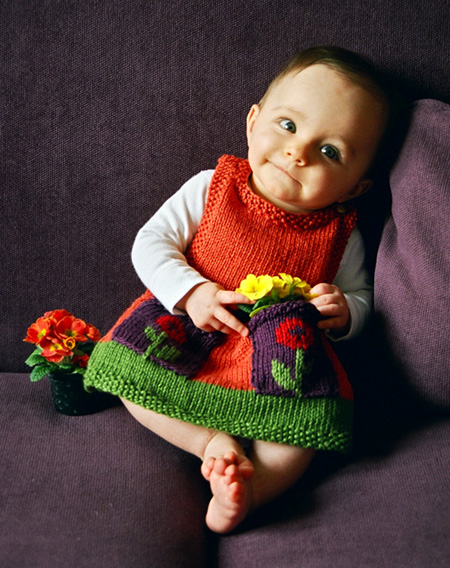 You know, the more I think about Sara's pinafore, the more it begins to deviate from the pattern that I fell in love with. As I mentioned yesterday, I fell in love with this pattern before my daughter was born. I loved that it wasn't the typical baby colors. But the more that I think about making this for Sara, the more I am tempted to make it in purples and blues. She's a toehead with a fair complexion to match. Her wardrobe has a lot of light colors. As tempted as I might be to make this in an eggplant, the more I think about customizing it for her, the more I want to make it wearable year-round. Living in Arizona, we don't have much of a window to wear heavy sweaters, so I'm thinking of doing this as a sort of summer knit that she could still wear in winter with a turtleneck.
I've been thinking about doing the dress in either a lilac, lavender or light blue, and using a chenille for for the fish and a high sheen fiber for the water. Still, I wasn't sure how I should vary the stitch to make for an interesting water feel. Then I remembered the seafoam waves stitch I saw on
Knitty Gritty
. It solves two problems: a) it's water like, and b) it gives another stitch variation that I can use to make the dress a little more lightweight. Should be good for winter or summer and get a bit more wear than it otherwise might have!